NEO Blockchain Hackathon — Berlin
Details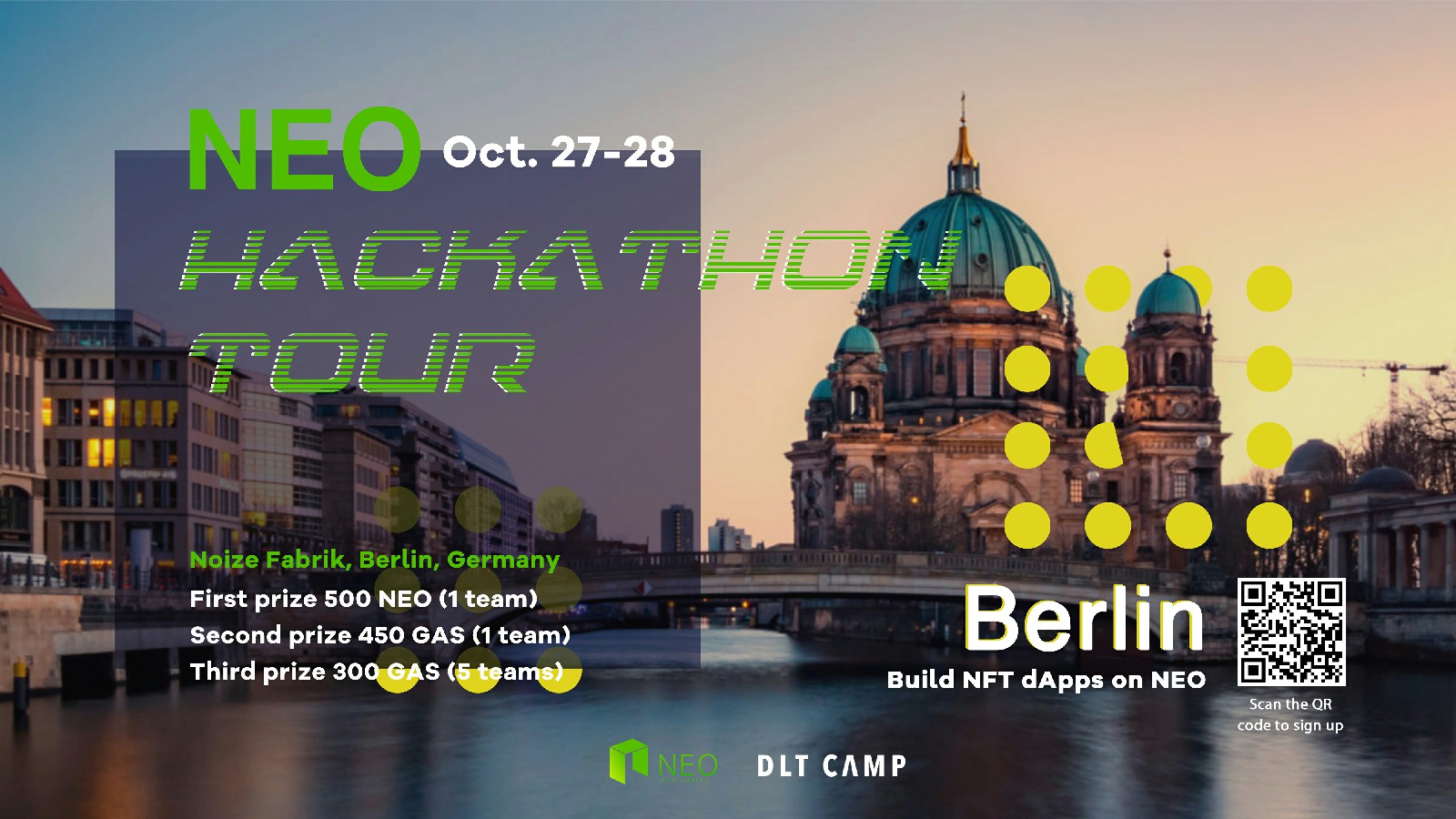 We designed this competition as a way for improving the NFT standard of NEO, so that NEO can finalize the NFT standard through exploring different application scenarios (not limited to game scenario). We wish that all of you will put your innovative ideas into practice at this fantastic event. We're welcoming people from all areas in the NEO community and newcomers who want to know more about NEO ecosystem. Whether you're a seasoned developer, UI/UX designer, or even an avid NEO investor, please join us in this friendly competition.
* Free NEO T-shirts and catering are provided.
Hackathon Guidelines
Design and develop dApps based on Non-fungible Token Standard which defines a standard non-fungible token system for the NEO Smart Economy.
Hackathon Theme
Build NFT dApps on NEO
Hackathon Spirit
Learn, Think, and Create
Hackathon Location
Noize Fabrik, Berlin, Germany
Hackathon Awards
First Prize - 500 NEO (1 team)
Second Prize - 450 GAS (1 team)
Third Prize - 300 GAS (5 team)
Mystery Prize (It depends on the submitted work)
Hackathon Deadline
3:00 PM, Oct 28th (Local Time)
Rough Timeline
Sep 21th(Friday) Online
Hackathon Online Announcement, encourage participants to start brainstorming, organizing teams and coding. This is the perfect time to join NEO discord and try to build a team to map out for the next few weeks. We hope the time period from Sep 21st to Oct 27th can be used to sketch out the delegation of work and start coming up with ideas and solutions for the Challenge. Do your best to accomplish as much as possible in this period. It should be the main bulk of the hackathon.
Oct 27th(Saturday) Berlin
We'll give a keynote, 11:00AM will be the deadline to finalize teams and team concepts. Once it has passed, new team and change of the team will not be allowed.
Keynote and Guidance
09:00 Welcome notes, intro NEO Smart Economy and NEO Hackathon
10:00 Team building & brainstorming
10:30 Team concept finalized
11:00 Start sprint
22:00 Report deliverables/ feedback session
22:30 Work / party
Oct 28th(Sunday) Berlin
Deadline is 3:00pm. After submit your works, each team has 10 minutes presentation to show off to the judges and fellow teams about their work. We'll provide you with a projector. Winners will be chosen by the judges and announced when consensus is achieved. Presentation and Award
10:00 Registration & Final sprint
15:00 Team Presentations (10 mins per team)
18:30 Awards Announcement
19:30 Networking and Drinks
For detailed rules, you can check Hackathon Specifications or visit website
For more information, you can also join our discord channel: https://discord.io/neo
* The organisers or/ and professionals commisioned by the organisers will be taking photographs, recording video or making audio recordings during the hackathon which might be shared to the public. Should you wish not be photographed or recorded, please inform the organisers.
Hackathon Judges
Erik Zhang
Founder & Core Developer, NEO
Author of dBFT consensus mechanism, expert on blockchain technology and computer security and a certified information system auditor (CISA)
Sebastian Gajek
Founder and CTO of Weeve
Blockchain enthusiast, cryptographer by heart, in love with cryptoeconomic mechanism design
Sean Chen
Founder of BlaCat
Led the development of top game 3D and Web3D engines. Entrepreneurial experiences in MU (奇迹来了), RO (仙境物语) and Yulgang (热血江湖).
Peter Lin
Director of R&D NEO Global Development (NGD)
One of the early NEO developers.
Organizers
NEO Global Development (NGD)
NEO Global Development (NGD) is an organization that was founded by the NEO Foundation (NF) in March of 2018. Its purpose is to focus on the execution of NF strategies surrounding technological R&D, marketing, and community development. As NEO is a non-profit, international, open-source blockchain project seeking interaction and collaboration with the global community, NGD will liaise with organizations and members of the community on behalf of NF. NGD is dedicated to realizing NEO's vision - the implementation of the NEO Smart Economy, a new economic model empowered by technical innovation and the convergence of community forces.
DLT Camp
DLT Camp is a hackathon event organizer that empowers developers and blockchain enthusiasts to transform ideas in to real world prototypes. We provide a fun, collaborative environment for developers to work on challenging problems that define the future of IT. Our events include both business and IT teams, and are supported by lecturers from other fields like patent law and business marketing.