NEO Blockchain Hackathon - Zurich
Details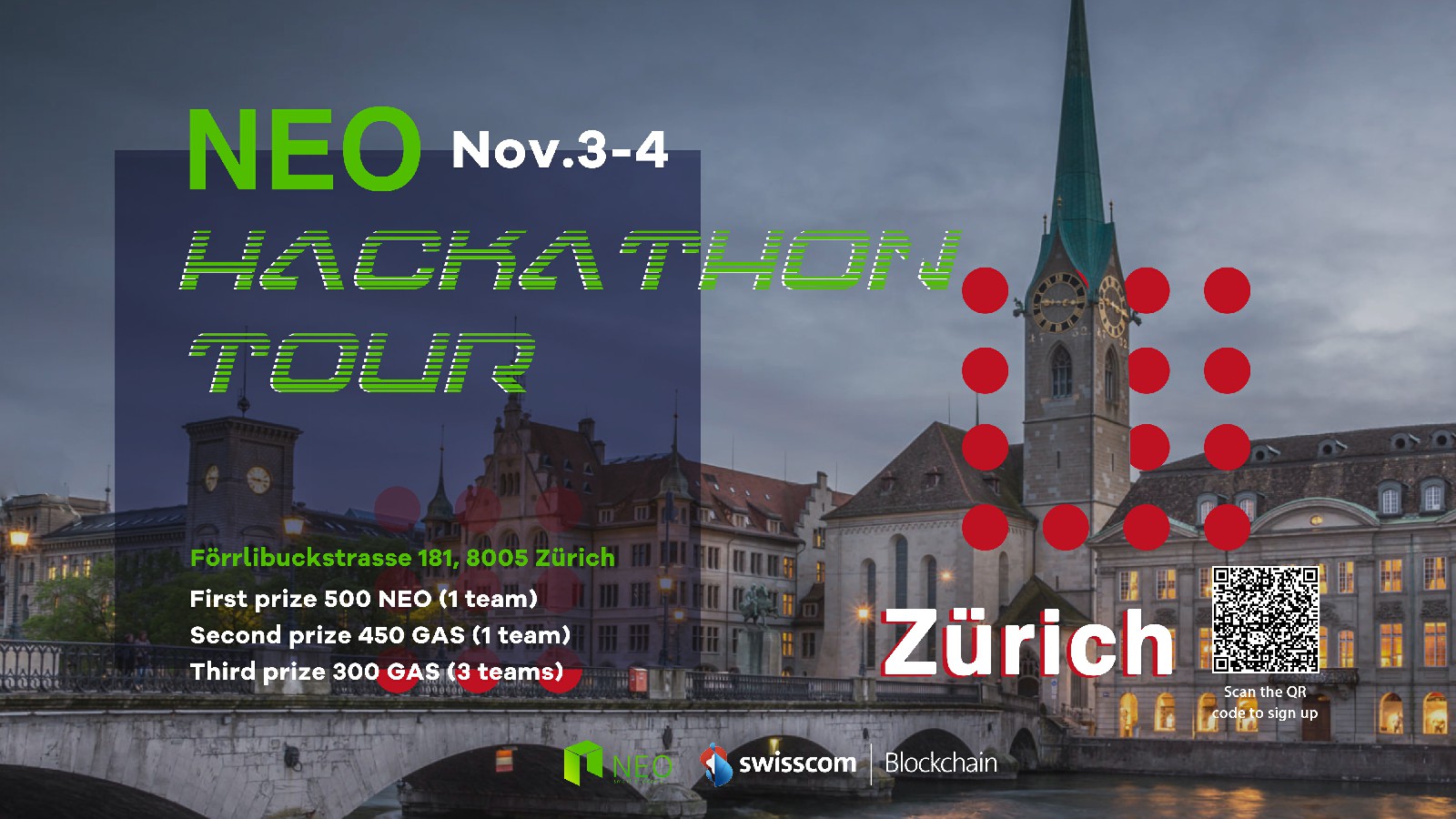 We designed this competition as a way for the community to get together and try to tackle the development side of NEO's complex ecosystem. Participants will be divided into several small teams. All teams will have 32 hours to innovate, design and develop their projects related to the theme. We wish for as many of you to try your hand at this event, we're welcoming people from all areas in the NEO community. If you're a seasoned developer, UI/UX designer, or even an avid NEO investor, please join us in this friendly competition for a chance to win some NEO or GAS!
* Free NEO T-shirts and catering are provided.
To encourage more people especially students to actively join this Hackathon, below are extended coding subjects:
- NEP (NEO Enhancement Proposals)
- NEO 3.0
- NEO smart contract ecosystem
- Community development of NEO in Switzerland
Any participants will be awarded at least 10 GAS, and no ceiling for the award!
Hackathon Location and Date
Location:Zurich, Switzerland
Date: 2018.11.3 - 2018.11.4
Hackathon Awards
First Prize - 500 NEO (1 team)
Second Prize - 450 GAS (1 team)
Third Prize - 300 GAS (3 teams)
Mystery Prize (It depends on the submitted work)
Hackathon Deadline
6:00 PM, Nov 4th (Local Time)
Schedule
November 3rd (Saturday)
08:30 Sign up
09:00 Opening ceremony, announce hackathon theme and rules
09:30 Free Team Up
10:00 Start hacking!
12:30 Lunch
November 4th (Sunday)
18:00 Project Submit Due
18:30 Presentations
21:00 Awards Announcement
For detailed rules, you can check: Hackathon Specifications
For more information, you can also join our discord channel: https://discord.io/neo
* The organisers or/ and professionals commisioned by the organisers will be taking photographs, recording video or making audio recordings during the hackathon which might be shared to the public. Should you wish not be photographed or recorded, please inform the organisers.
Judges
Kasimir Blaser
Senior Consultant at Swisscom Blockchain AG
He has many years of experience as developer and architect. In the blockchain space he is focusing on public blockchain technologies, smart contract development and testing, Self-Sovereign Identities, auditing protocols and operation of full nodes.
Arno Pernthaler
Leading the Swisscom Blockchain Academy / Senior Consultant for Enterprise Blockchain Advisory
Prior to joining SCB, he was a Digital Strategy consultant at Monitor Deloitte and blockchain consultant at the Deloitte EMEA Blockchain Center of Excellence in Dublin. Arno has written multiple publications on blockchain and holds a Master's degree in Strategy and Entrepreneurship.
Erik Zhang
Founder & Core Developer, NEO
Author of dBFT consensus mechanism, expert on blockchain technology and computer security and a certified information system auditor (CISA)
Fabian Whale
Co-founder of NEX exchange built on the NEO blockchain
As an early contributor to NEO and co-founder of City of Zion, NEO's largest international developers' community, Fabian is a highly valued member in the NEO community. He holds a PhD from ETH Zurich and Master's degree in Artificial Intelligence from Maastricht University.
Guido Rudolphi
Renowned cyber security and cryptography expert
Guido is Chief Information Security Officer for SEBA Crypto AG which is seeking to obtain a Banking and Securities Dealer licence from the Swiss regulator FINMA. He is a Bitcoin pioneer and was running the biggest mining farm in Switzerland.
Dr. Fabian Schär
Professor for Distributed Ledger Technologies (Blockchain) and Fintech at the University of Basel
His research focus is on interdisciplinary analyses of Smart Contracts, asset tokenization and Blockchain applications. He has a PhD in Cryptoassets and Blockchain Technology and co-authored several publications including the bestselling book "Bitcoin, Blockchain and Cryptoassets" and several scientific articles.
Dr. Thomas Bocek
Professor at the Hochschule für Technik Rapperswil
Previously he was the head of P2P and distributed systems at the Communication Systems Group at the University of Zurich. His research focuses on communication systems and networks, especially focusing on peer-to-peer, distributed systems, including Bitcoins and blockchains. He has authored or co-authored more than 100 publications.
Peter Lin
Director of R&D NEO Global Development (NGD)
One of the early NEO developers.
Organizers
NEO Global Development (NGD)
NEO Global Development (NGD) is an organization that was founded by the NEO Foundation (NF) in March of 2018. Its purpose is to focus on the execution of NF strategies surrounding technological R&D, marketing, and community development. As NEO is a non-profit, international, open-source blockchain project seeking interaction and collaboration with the global community, NGD will liaise with organizations and members of the community on behalf of NF. NGD is dedicated to realizing NEO's vision - the implementation of the NEO Smart Economy, a new economic model empowered by technical innovation and the convergence of community forces.
Swisscom Blockchain AG
Swisscom Blockchain AG is founded by Swisscom and led by technology experts in the blockchain area with a "Big 4" background. It is supported by Swisscom's infrastructure and development know-how and offers blockchain solutions, advisory services and professional training.