Details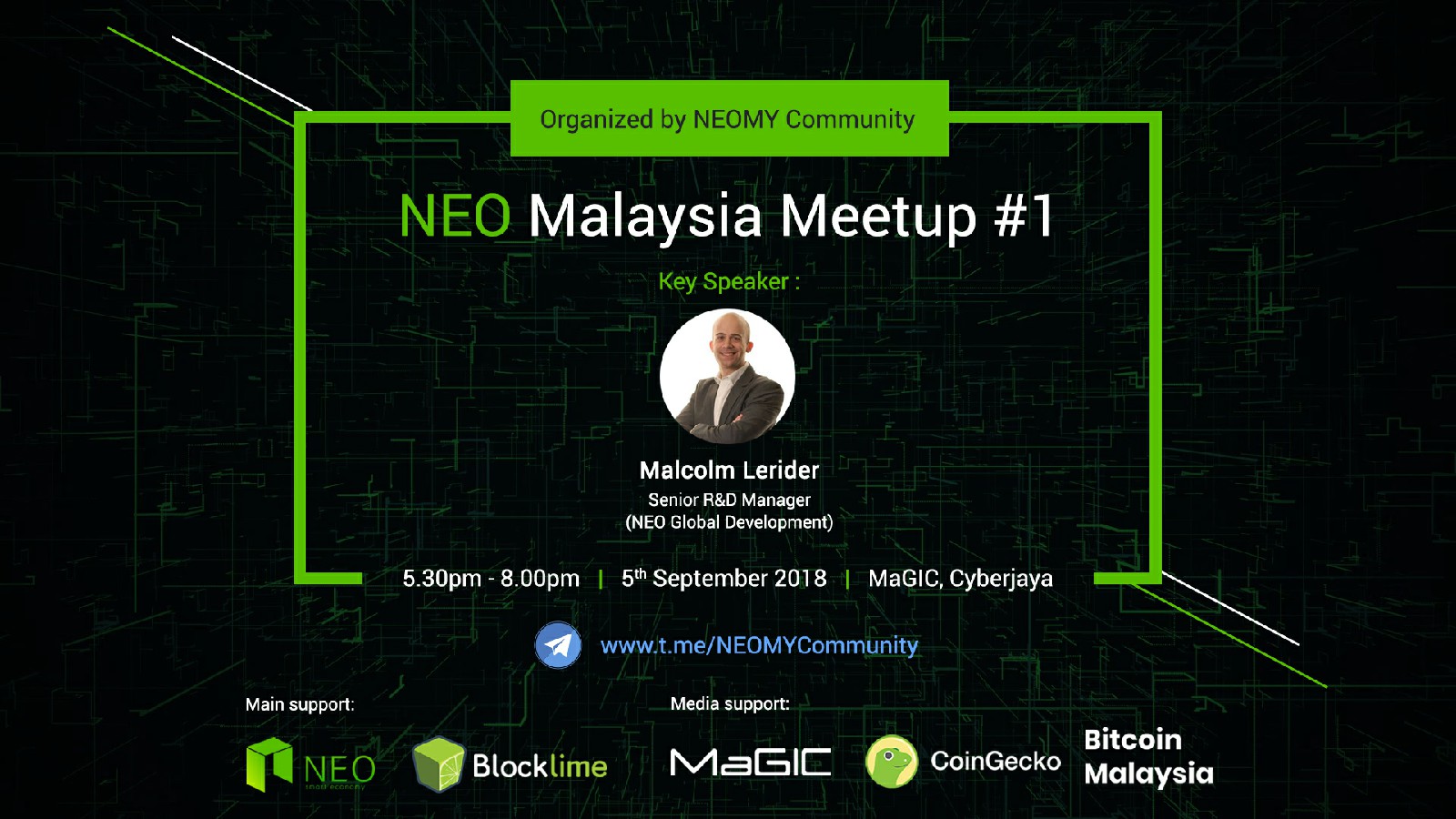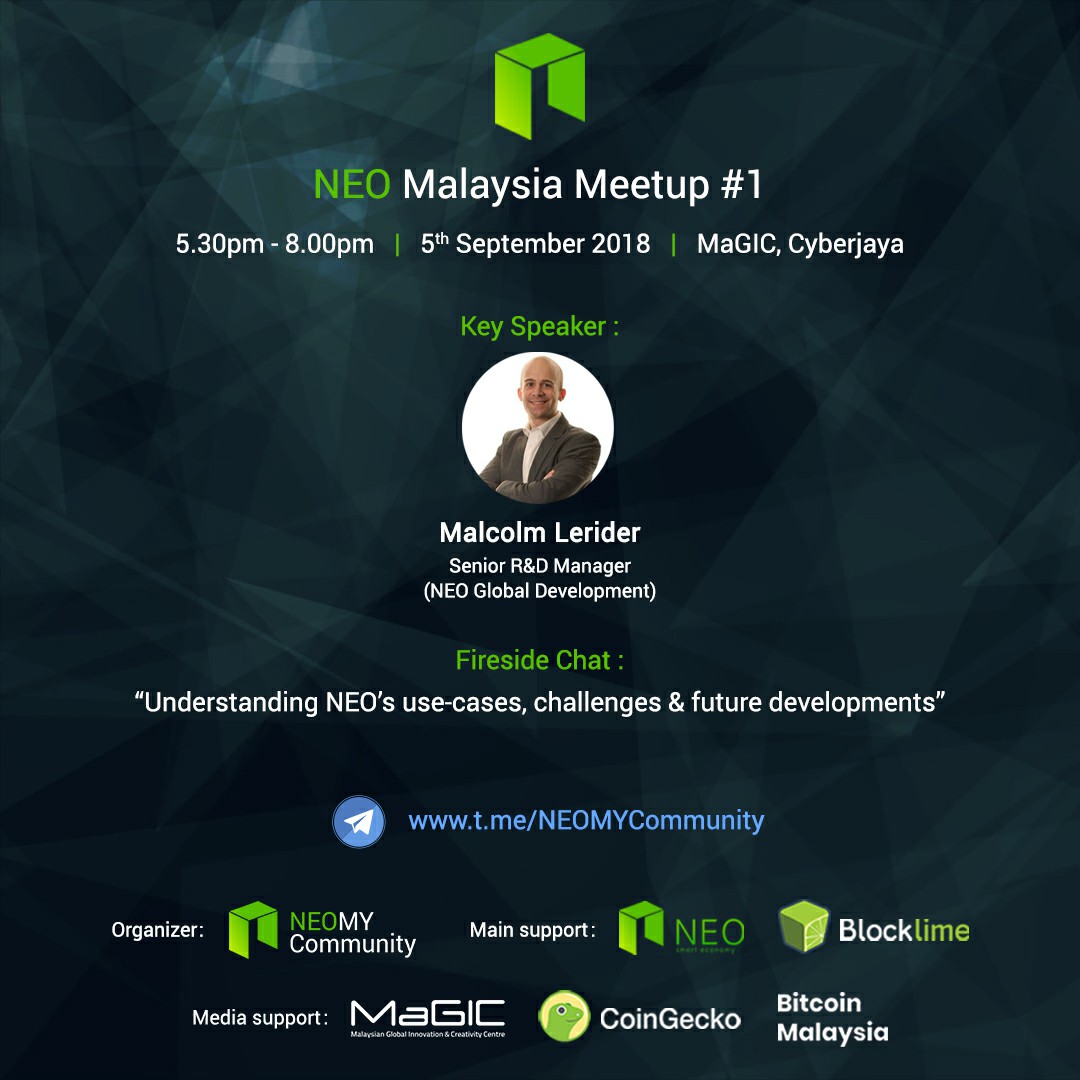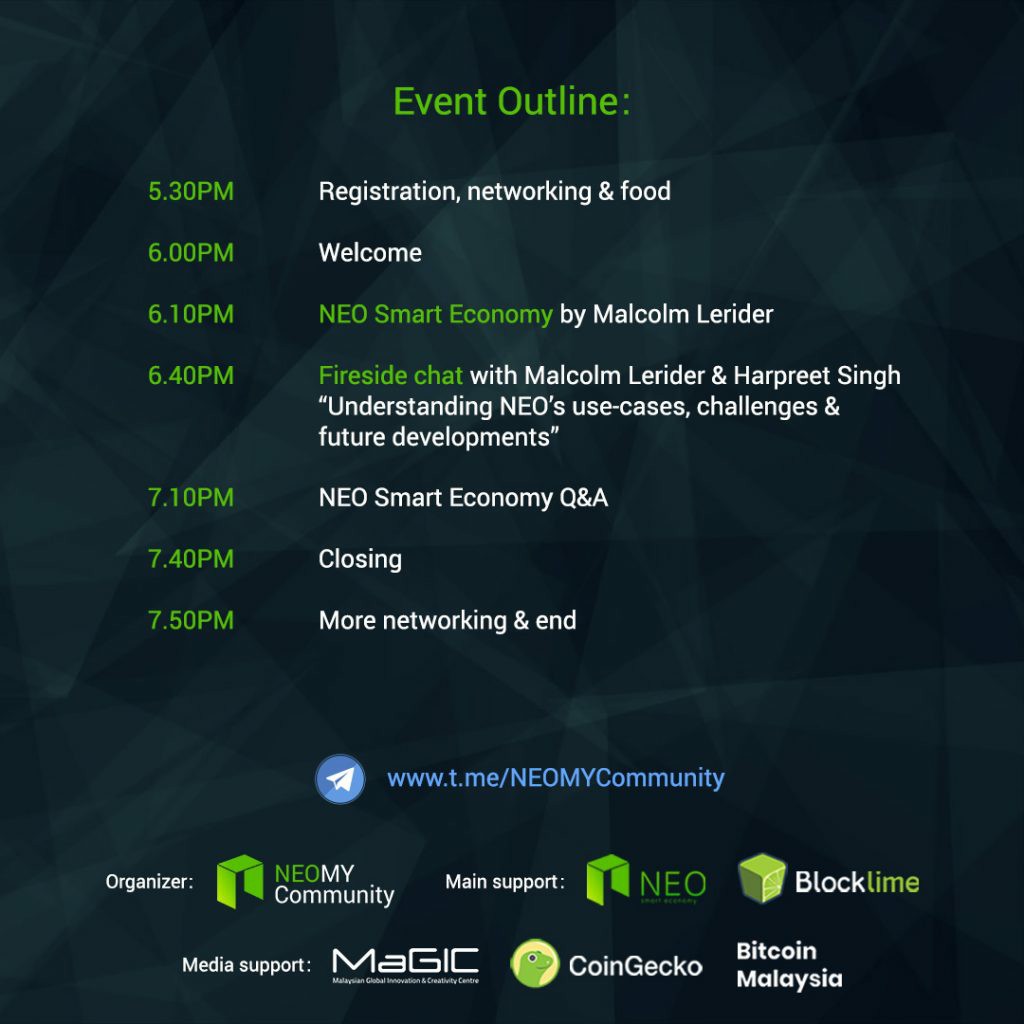 Agenda
5:30pm – 6:00pm: Registration, Networking & Food CWS, MaGIC
6.00pm – 6.05pm: Aaron Hong @ NEOMY Community Opening Remarks
6.05pm – 6.10pm: Harpreet Singh @ Blocklime Opening Remarks
6.10pm – 6.40pm: Malcolm Lerider @ NEO Global Development Presentation
6.40pm – 7.20pm: Fireside Chat "Understanding NEO's use cases, challenges and future developments" by Malcolm Lerider (NGD)& Harpreet (Blocklime) -Moderated by Harith (HelloGold)
7.20pm – 7.40pm: NEO Smart Economy Q&A Session
7.40pm – 7.50pm: Aaron Hong @ NEOMY Community Closing Remarks
7.50pm – 8.00pm: Networking, End of Meetup
Malcolm Lerider
As a double master's degree holder (International Industrial Engineering and Management, Computer Science and Engineering), he has long been engaged in software development and software project management. He once worked for world-renowned enterprises such as Accenture and Webpower as Java software engineer, distributed software development manager and manager with a good mastery of simulation and modeling, algorithm development, economic modeling and managing distributed teams.
Harpreet Singh Maan
Born and raised in Sungai Besi, Kuala Lumpur, Blocklime CEO Harpreet Maan comes from humble beginnings. Armed with his natural inquisitiveness, he gained diverse experience in software development, blockchain development, and information technology. He delved into Bitcoin mining at a young age of 19 and was soon enamored with blockchain technology itself. Not long after, he found himself researching about blockchain and distributed ledger technologies, and eventually his efforts enabled him to become a blockchain developer.
Harith Kamarul
Harith works on Strategy & Business at HelloGold. Prior to HelloGold, Harith was a management trainee at Great Eastern Life and part of the Morning Run team at BFM89.9. He graduated magna cum laude with a degree in Actuarial Science from the University of Wisconsin-Eau Claire.
About NEO
NEO is a non-profit community-driven blockchain project. It utilizes blockchain technology and digital identity to digitize assets and automate the management of digital assets using smart contracts. Using a distributed network, it aims to create a "Smart Economy".
NEO was founded in 2014 and was open sourced on Github in June 2015. NEO believes that community development is its top priority. NEO has a huge developer community around the world, such as CoZ, NEL, and NeoResearch, which continuously contributes to the NEO developments. Millions of community members are active on Reddit, Discord, Github, and Twitter.
About NEO-MY Community
NEO-MY Coummunity is a local non-profit initiative established to spread awareness about NEO blockchain and its technologies through education and knowledge-sharing. Our mission is to develop a local NEO community that will contribute back into the global NEO ecosystem. Join their Telegram group here .