NEO JOY 2019 北京站 | 区块链重构游戏新生态
Details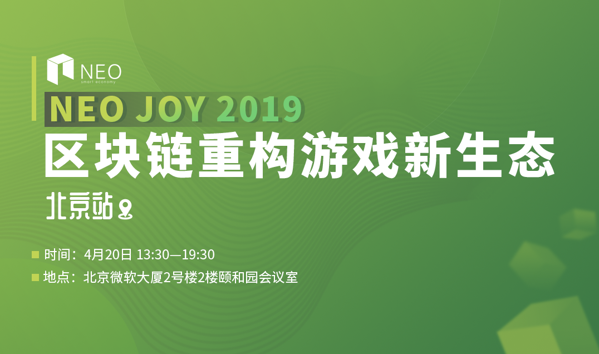 NEO JOY是中国最实力、最干货的NEO社区会议,致力于为中国广大的NEO支持者与爱好者提供最好的区块链交流大会。
NEO JOY 2019北京站将于四月份举办。届时我们将聚集一批行业大咖与技术大牛,呈现优秀的有潜力的区块链应用案例和技术实践。本次会议以"NEO区块链游戏"为主题,将对"区块链+游戏"展开深度探讨,探索区块链游戏的未来趋势。同时这也将是一场很 cool 的NEO社区聚会。
时间:4月20日 13:30—19:00
地点:北京海淀区丹棱街5号微软大厦2号楼(北楼)2层颐和园会议室
会议议程
13:00—13:30 签到
13:30—14:10 《区块链游戏一站式解决方案》 NGD生态发展部负责人 王佳超
14:10—14:50 《区块链dApp应用方向探索》 NEXT技术社区创始人 王岳锋
14:50—15:30 《浅析区块链游戏竞争优势》 Blacat游戏平台创始人 陈喜
15:30—15:40 茶歇
15:40—16:20 《区块链游戏资产的配置原理和升值逻辑》 Higgs Network创始人&GAEX CEO 王玎
16:20—17:00 《鱼链-混合通证的大PARTY》 FishChain 联合创始人&CEO 李景毅
17:00—17:10 自由交流
技术工坊
17:10—19:00 《NEO区块链游戏开发指导》——NGD区块链开发工程师 王龙飞
Workshop会介绍在NEO上开发区块链游戏的整个流程, 包括:
如何在本地搭建NEO私链
如何使用NEO节点以及钱包
如何开发NEO智能合约(NEP-5 token资产)
如何在游戏开发引擎 Unity中集成NEO SDK或者钱包插件,并开发一款简单的NEO区块链游戏
特别互动环节:
17:10—19:00 项目方交流会:区块链游戏项目一对一交流—— NGD生态发展经理 王佳超
Tips: 欢迎 游戏项目方 与NGD生态发展部门进行合作、支持等各方探讨与交流。
嘉宾介绍:
王佳超
NGD生态发展部负责人
多年国际知名咨询公司项目管理经验,多次成功创业经历,目前主要负责NEO生态发展相关工作。
王岳锋
NEO-NEXT技术社区发起人 风口科技CEO
曾负责过iost、bcpt等多个项目的营销。全程孵化neo生态下EXT、EDS等项目
陈喜
BlaCat游戏平台创始人,ZoroChain架构师;
15+年游戏行业从业经验,软件工程师,在游戏架构、3D游戏引擎、Linux游戏服务器、游戏技术框架方面有丰富经验;连续创业者,从2009年起先后创立多家游戏公司,期间研发游戏累计流水超过6亿人民币;IT男。
Kelvin Wong/王玎
Higgs Network创始人&GAEX.com CEO
早于2005年参与创办游戏资产交易平台Peons4hire;后长期从事海外游戏发行工作及运营工作。2018年创建全球首家区块链游戏资产交易平台GAEX.com。
李景毅
FishChain 联合创始人&CEO
超过十五年游戏制作经验的行业老炮,曾专精于社交游戏。现专注于区块链游戏领域,是混合通证经济最早期实践者。
王龙飞
NEO开发工程师,主要负责NEO.Game的技术支持。
拥有多年大型企业应用后端开发经验,曾就职于万向区块链实验室,参与区块链供应链金融系统的研发,并代表上海万向区块链实验室注册为ISO/TC 307区块链国际标准专家,参与区块链技术研究以及国际区块链标准制定。
NEO JOY is the most influential and high-quality NEO community conference in China, providing a forum for NEO supporters and enthusiasts to exchange ideas.
Beijing NEO JOY 2019 will be held in April, where a number of industry leaders and technology experts will convene, demonstrating excellent potential blockchain application cases and technical practices. The conference will feature in-depth discussions on its theme, "NEO blockchain games," and explore the future trends of the blockchain gaming industry. It will also be a cool NEO community gathering.
Time: 13:30-19:00, April 20th
Venue: Summer Palace Conference Room, 2nd Floor, Building 2, Microsoft Building No.5 Danling Street, Haidian District, Beijing
Agenda:
13:00-13:30 Registration
13:30-14:10 One-Stop Solution for Blockchain Games, Jiachao Wang, NEO Ecosystem Growth (EG) Manager
14:10-14:50 Exploration on the Application Direction of Blockchain dApps, Yuefeng Wang, Founder of Developer community NEO-NEXT
14:50-15:30 Analysis of the Competitive Advantage of Blockchain Games, Xi Chen, Founder of BlaCat Game Platform
15:30-15:40 Tea Break
15:40-16:20 The Allocation Principle & Appreciation Logic of Blockchain Game Assets, Kelvin Wong, Founder of Higgs Network & CEO of GAEX.com
16:20-17:00 Fishchain: A Big Party for Hybrid Tokens, Jingyi Li, Co-Founder & CEO of Fishchain
17:00-17:10 Break & Networking
Technical workshop:
17:10-19:00 NEO Blockchain Game Development Guide, Longfei Wang, NEO Development Engineer
During the workshop, there will be an introduction to developing blockchain games on NEO from scratch, including:
How to set up a local NEO private chain
How to use NEO nodes and wallets
How to develop NEO smart contracts (NEP-5 token assets)
How to integrate the NEO SDK or wallet plugin into the Unity game development engine and develop a simple NEO blockchain game
Interactive session:
17:10-19:00 One-to-One Interaction with Blockchain Game Projects, Jiachao Wang, NEO Ecosystem Growth (EG) Manager
Tips: Interested parties are welcome to communicate with NGD Ecosystem Growth department to discuss cooperation, support & other aspects.
Speakers:
Jiachao Wang
NEO Ecosystem Growth (EG) Manager
Jiachao has many years of project management experience in internationally renowned consulting companies and several successful entrepreneurial experiences. Currently, he is mainly responsible for NEO ecosystem growth.
Yuefeng Wang
NEO-NEXT Technical Community Initiator & CEO of Fengkou Technology Co., Ltd
Yuefeng was responsible for the marketing of multiple projects such as IOST and BCPT, and successfully incubated projects such as EXT and EDS in the NEO ecosystem.
Xi Chen
Founder of BlaCat Game Platform & Architect of ZoroChain
With more than 15 years of experience in the game industry as a software engineer, Mr. Chen has a rich experience in game architecture, 3D game engines, Linux game servers and technical game frameworks. He is a serial entrepreneur and has founded several game companies since 2009 with more than 600 million RMB in research and development games accumulated.
Kelvin Wong
Founder of Higgs Network & CEO of GAEX.com
Kelvin joined Peons4hire, a game asset trading platform, in 2005, and has long been engaged in game releases and operations abroad. In 2018, he founded GAEX.com, the world's first blockchain game asset trading platform.
Jingyi Li
Co-Founder & CEO of FishChain
leading expert with 15+ years'experience in gaming development. Once focus on social networking gaming and now switch to blockchain gaming.One of the earliest practitioners of Hybrid Token
Longfei Wang
NEO Development Engineer, Technical Support of NEO.Game
Longfei has many years of experience in back-end development of large-scale enterprise applications, and previously worked for Wanxiang Blockchain Labs, involved in the R&D of blockchain supply chain financial system. He also registered as an expert of ISO/TC 307 blockchain international standard on behalf of Shanghai Wanxiang Blockchain Labs, participating in the research of blockchain technology and the formulation of an international blockchain standard.