Details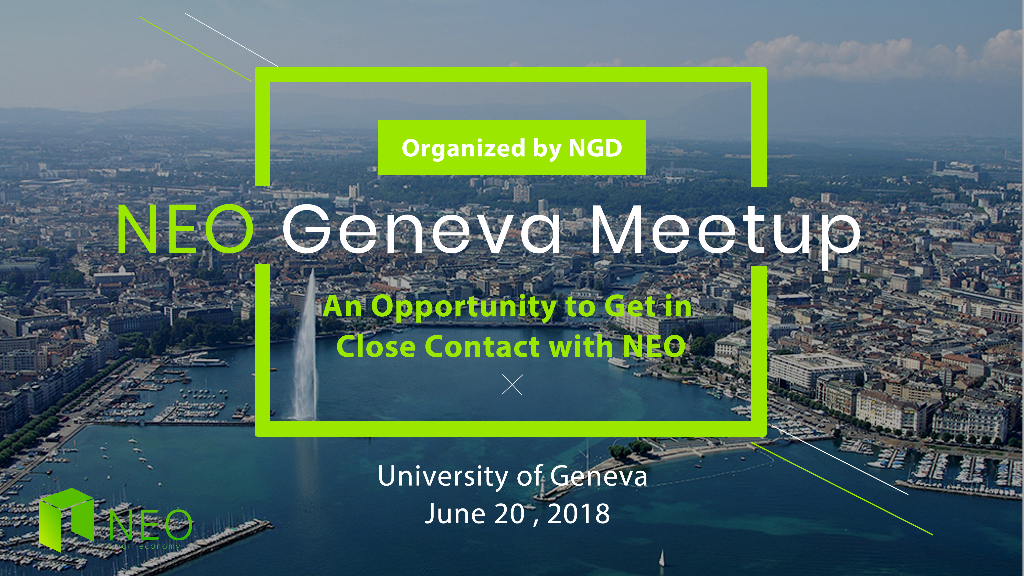 NEO has travelled to many countries across the world in the past few months. Switzerland is the last stop of NEO Europe Tour April. We are deeply impressed by the enthusiasm of the Swiss community and therefore plan to come back to Switzerland for an in-depth interaction with local communities and developers.
On the afternoon of June 20, NEO will hold a workshop in the University of Geneva. Peter Lin, head of R&D of NEO Global Development (NGD), will show you "Smart Contract Programming with C# & Python". You can find more infomation related to the workshop here.
On the night of June 20, NEO will hold a meetup in the University of Geneva. Da Hongfei, founder of NEO, Dr. Jean-Marc Seigneur, professor from University of Geneva and some outstanding NEO based projects, like Safeguard, Barrel and Alchemint will also show up on the meetup. This is a great opportunity to get in close contact with NEO ecosystem.
Meetup Agenda
19:00-19:30 Dr. Jean-Marc Seigneur, University of Geneva
Dr. Jean-Marc Seigneur has been researching attack-resistant decentralized computational trust algorithms since 2005 at University of Geneva and more recently as part of the ITU DLT standardisation initiative, which also based in Geneva.
19:30-20:00 Da Hongfei, Founder of NEO
20:00-20:20 Safeguard
20:20-20:40 Barrel
20:40-21:00 Alchemint
Projects Introduction
Founded in 1559 by Jean Calvin, the University of Geneva (UNIGE) is dedicated to thinking, teaching, dialogue and research. With 16,500 students of more than 150 different nationalities, it is Switzerland's second largest university. Just like the city of Geneva itself, the university enjoys a strong international reputation, both for the quality of its research (it ranks among the top institutions among the League of European Research Universities) and the excellence of its education. This acclaim has been won in part due to its strong ties to many national and international Geneva-based organizations, such as the World Health Organization, the International Telecommunications Union, the International Committee of the Red Cross, and the European Organization for Nuclear Research.
Safeguard is an established organization operating at the forefront of safety innovation. Each year, countless people get injured at work, affecting livelihoods and costing business owners an average of $2,000 each year per employee.This is why we are building the world's first Artificial Intelligence framework for predicting and preventing workplace accidents, injuries and fatalities on NEO. Our goal is to universalise safety-tech, enabling businesses and organizations around the world to benefit from safer working environments. Through the Safeguard Protocol, people can make use of the open-source Safeguard application for managing workplace safety. On top of that, the Safeguard Token (SGT) enables them to use specific AI 'Oracles' within our ecosystem, whilst also incentivizing community developers to contribute new use cases to the platform, enabling us to exponentially grow and improve it.
In Marc Andreessen book Why Software Is eating the world, 'software' means 'data and algorithms'. We believe that Data is the currency. By leveraging Zero-knowledge Proof, K-Anonymity methods Barrel intends to be the container for GDPR Compliant data. In a world that regularly abuses consumer data, Barrel protocol converts data into Barrels of clean data. Refiners are empowered to anonymize blocks of data based on consensus driven protocols, and nodes can then verify the anonymity and seal the block. Chunks of data are converted to digital commodities with set properties, scoring, labeling. Barrel intends to be the currency of choice of all B2B data transactions. To provide a consensus-driven protocol for refining data - removing all PII while maintaining its commercial value.

Alchemint is a cryptocurrency stabilization system that runs on NEO's public chain. It uses distributed ledger technology to create high-performance, application-grade encrypted digital currency, and completes the mortgage of digital assets, management of collaterals value and issuance of stablecoin through intelligent contracts. Alchemint wants to create a robust, open and transparent stablecoin issuance system.